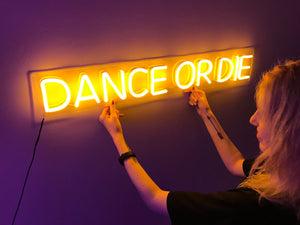 "Dance or Die" party led signs

The "Dance or Die" neon sign is a stunning piece of modern art that combines bold typography with vibrant LED lighting technology. The sign features a brilliant yellow color that radiates energy and joy, making it the perfect addition to any space that needs a bit of extra pizzazz.
At 40 inches in length (or 100 centimeters), this neon sign is the perfect size to make a statement without overwhelming the room. The letters are carefully crafted to be easy to read and eye-catching, drawing the viewer's attention immediately.
Made with durable, long-lasting LED lights, this sign is designed to stand the test of time. It's energy-efficient, easy to install, and requires minimal maintenance, making it an ideal choice for both personal and commercial use.
Whether you're a fan of dance music or simply love the bold, bright aesthetic of neon signs, the "Dance or Die" LED sign is sure to impress. With its eye-catching design and high-quality construction, it's a must-have for any modern space
---