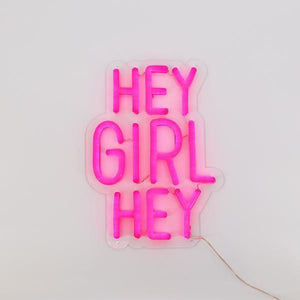 Our 'Hey girl hey' neon sign is a vibrant and eye-catching addition to any room or space. The bright pink color is playful and fun, making it perfect for adding a pop of color to any decor. The sign is made with high-quality LED lights that give it a bright and consistent glow, making it perfect for any setting. Whether you're looking to add some fun to your room or want to create a statement piece in your business, this neon sign is sure to do the job. The playful and casual message, 'Hey girl hey,' adds a friendly and welcoming touch to any environment, making it the perfect choice for anyone looking to add a touch of personality to their space.
 The dimensions of the light measure 20 inches in height, or approximately 50 cm.
Introducing a unique and innovative lighting solution - the Flexible LED Neon Tube Light. This light is crafted with a flexible silicon tube filled with LED lights to mimic the appearance of a traditional glass neon sign.
The backing is made of clear acrylic, adding to its durability and longevity. 
The advanced COLD NEON technology makes this lamp not only visually appealing but also safe for use around children and pets. The low voltage and touchable surface, combined with the included 12V adapter and transformer, ensure compatibility with your country's electrical system.
Additionally, the LED technology is much more durable than traditional glass neon, making it a great choice for those looking for a long-lasting lighting solution.
The power cord is 2 meters in length and comes with a plug for your country. With a lifetime of up to 50,000 hours, this LED neon light is a great investment.
Please note, it is intended for indoor use only.
---
fast shipping
Better than expected, fast shipping. I hope he likes it