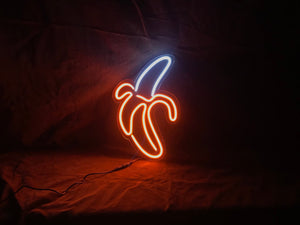 Are you tired of looking at the same old, boring sign in your kitchen? We're here to save the day! With a Banana Neon Sign, you'll be able to get rid of that old-fashioned sign and replace it with a cool new one.  It's time to give your kitchen a fresh new look!
clear acrylic, LED neon tube
Banana

neon sign

Size:

Height: 20" (50cm)

Advantages of our flex neon signs:

✓ Life up to 100,000 hours
✓ Low power consumption
✓ No mercury, safe for children
✓ Tidy appearance
✓ Shockproof

Banana led hand made, high quality neon signs with love.


Power supply 110/220v, Your country plug included

Include a remote

 

A perfect sign for those who love their kitchen. We sell brightly-colored neon signs that are designed to hang in the kitchen.
---