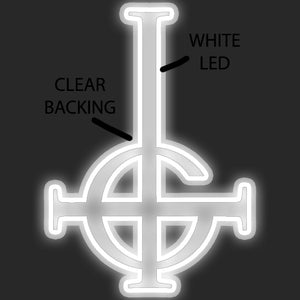 Grucifix neon sign
 Grucifix Neon Sign Description.
The Grucifix neon sign is a stunning piece of decor that is sure to catch the eye and make a statement in any room. Made with LED lights, this sign boasts a bold and vibrant glow that will illuminate your space with a warm and inviting ambiance. Measuring 20 inches in size, it is the perfect addition to any wall, shelf, or desk. The Grucifix design is a modern take on the classic crucifix symbol, with sleek lines and a contemporary edge. This sign is sure to add a touch of edgy sophistication to any space, whether it be a bedroom, living room, or even a trendy office or restaurant. With its high-quality construction and energy-efficient LED technology, the Grucifix neon sign is both durable and long-lasting, making it a great investment for any decor enthusiast.
No noise and no heat, operates in a low voltage and it doesn't break!
No installation is required. 
Just hang it and plug it, or put it on your table.

It's low voltage transformer will work in any country (USA, Europe, Australia, Japan etc...)
Dimensions
1 power, 1 remote
Clear acrylic backing
White LED
Height : 20 " (50cm)
⚈ Ready to use
⚈ Low voltage (12V transformer included)
⚈ Power cord length: 1.50m (60 inches)
⚈ 4-mm thick clear acrylic backing with pre-drill screw holes
⚈ Easy installation for hanging 
⚈ Does not break easily
⚈ 50,000 hours lifespan
⚈ 1 year warranty
⚈ Remote included (turn it off and control the brightness)
 7 days production 10/15 days shipping.
---