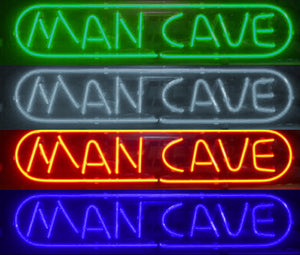 Looking for a perfect gift for your man?
A unique Mancave decoration that will attract the attention of all visitors. The word "Mancave" is made up of neon light that is illuminated at night and is perfect for any mancave. This sign will get your mancave noticed!
The ultimate MANCAVE neon led light
Materials
Acrylic, LED, PVC
Dimensions
20" (50cm)
Features:
Touchable - low voltage (12V adapter included) allows it to be used even with kids
Non-fragile - unlike glass neon, LED technology is durable
Power cord - 2 meters long and comes with your country plug.
Up to 50 000 Hours lifetime
Indoor use only

Free remote to turn it ON/OFF and control brightness and other mode.

Stop embarrassing yourself with a low-quality, cheap-looking neon sign that says "MANCAVE" on it. This installation is the perfect way to show off your mancave and attract potential mates. It provides a touch of class, and is guaranteed to make you the envy of all other mancaves.
Watch our examples of custom neon Sign on YouTube.
---