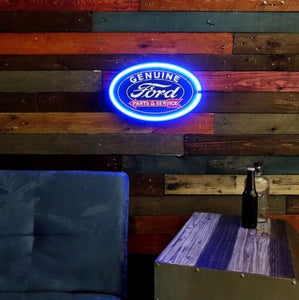 The Ford LED lighted sign is perfect for everyone who wants their mancave and garage to be seen.. Whether you're a sports fan,  or just a proud owner of a new Ford vehicle, this high-quality sign is sure to catch the attention of all drivers on the road. We've taken our time to design a sign that contains the newest in LED technology.

Materials
Acrylic, LED, PVC

Dimensions
20 Inches  (~50 cm) 
Decor For Bar, Garage, Man Cave

Features:

Touchable is a neon sign with a difference - it's touchable! Touchable is an LED neon sign that doesn't crack or break and can be used with kids. Touchable is powered by low-voltage, so it's safe to use with kids and adults alike. With Touchable, you can create personalized messages for your home or business in an endless combination of colors. It's the perfect way to create ambiance, promote a business
Remote control included for this garage  Neon Sign made with LED
Watch our examples of mancave and daddy garage Neon Sign on youtube.
---