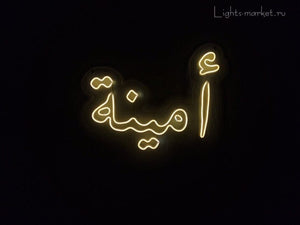 علامات باللغة العربية
Customized Neon Signs in Arabic are the new trend, and our online tools make it easy to create your own. Design your neon sign in Arabic, choose the colors, insert your favorite picture or logo, and order!
Arabic signs made with Neon Led - You can use our customized neon sign tool to create an amazing sign.
Arabic is the second most spoken language in the world, after Mandarin. We create neon signs in Arabic to help businesses advertise to a wider audience in their native language.
—
Imagine a world where you can express your personal identity through a sign that reflects the culture you grew up in. We provide a unique opportunity for you to have your name and address in Arabic letters.
—
We are a young team of engineers and designers who are passionate about Arabic neon signs. Our goal is to provide Arabic neon signs that are custom made and personalized to the customer's needs, whether they be an Arabic phrase, a slogan, or even a speech bubble.
---