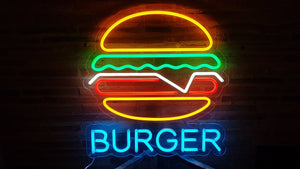 Burger neon sign
If you are looking for a burger neon sign for your kitchen, restaurant, or fast food establishment, there are many options available. Here are a few things to consider when choosing a neon sign:
You can find a variety of options online or at specialty stores that sell neon signs. Just be sure to choose a sign that meets your needs and will help draw attention to your business or kitchen
Our burger led sign is 20inc wide.
---
fast shipping
Better than expected, fast shipping. I hope he likes it