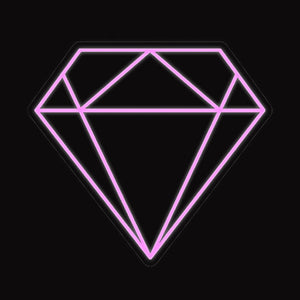 "Diamond" shaped neon led lamp for engagement, events.
The Diamond shaped neon sign is a stunning display of modern LED technology and classic neon design. The sign is made with high-quality LED lights, which provide a bright and energy-efficient source of light. The LED lights are arranged in the shape of a sparkling diamond, complete with intricate details and a brilliant glow. The sign is crafted with care, ensuring that every line and curve is precise and eye-catching. The LED lights are long-lasting and require minimal maintenance, making this sign a reliable and practical addition to any decor. Whether you're looking to add some sophistication and elegance to your home, or you want to make a statement in your business, the Diamond shaped neon sign is sure to make a lasting impression.
Materials: Acrylic, LED, PVC
Dimensions: Wider side: ~20 Inches (~50 cm) 
The new COLD NEON technology makes possible to create the neon-look lamps using the flexible silicon tubes with LED lights inside.
Having same effect as a real glass neon sign, LED neon is completely safe.
Features:
Touchable - low voltage (12V adapter included) allows it to be used even with kids
Non-fragile - unlike glass neon, LED technology is durable
Power cord - 2 meters long and comes with your country plug.
Up to 50 000 Hours lifetime
Indoor use only
Remote control included for this Lagunitas IPA Bottle Bar Neon Sign Made with LED
---