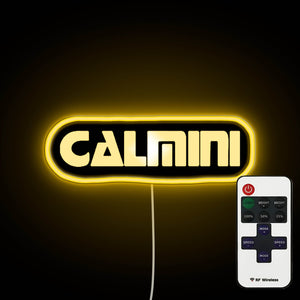 Get a neon sign for your patio, porch, garage, or garage door that proudly displays the Calmini Logo! Each piece comes with a FREE built-in neon light.
Calmini Logo neon led light
Materials
Acrylic, LED, PVC

Dimensions
The size of our Calmini neon signs is about 20x6 in (50x14 cm)



Features:
Touchable - low voltage (12V adapter included) allows it to be used even with kids
Non-fragile - unlike glass neon, LED technology is durable
Power cord - 2 meters long and comes with your country plug.
Up to 50 000 Hours lifetime
Indoor use only
Free remote to turn it ON/OFF and control brightness and other mode.

If you like : Calmini,car,cars,garage,dad cave,man cave,racing, this is the perfect idea for your garage or mancave.
Watch our examples of cars logo neon Sign on YouTube.
---