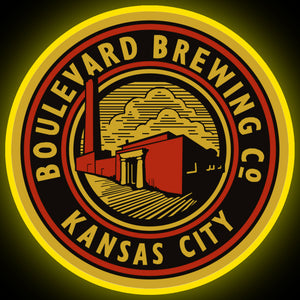 Boulevard Brewing Neon Sign
The Boulevard Brewing Neon Sign made with LED is a stunning, modern take on the classic neon sign. It features an intricate design, crafted from high-quality LED lights that emit a vibrant, neon-like glow. The sign is designed to mimic the look of traditional neon, but with the added benefits of energy efficiency, durability, and ease of maintenance that comes with LED technology.
The sign is a perfect addition to any space that requires a touch of sophistication and style, such as a home bar, restaurant, or brewery. It showcases the iconic Boulevard Brewing Company logo, which features a striking combination of bold typography and graphic design.
The LED lights are arranged in such a way that they highlight the unique features of the logo, creating a dazzling visual display that catches the eye and draws attention. The colors used in the design are vivid and bold, with a bright blue background and white lettering that stands out against it.
The Boulevard Brewing Neon Sign made with LED is a high-quality, durable piece of signage that is built to last. It is constructed from high-grade materials that can withstand the rigors of daily use, ensuring that it remains a stunning focal point in any space for years to come. Whether you're a craft beer aficionado or simply appreciate beautiful design, this neon sign is sure to impress.
Bar Neon Sign
PRINTED ON ACRYLIC BACKING. Tui Beer, Bar Neon Sign for your wall. 

Materials
Acrylic, LED, PVC

Dimensions
Wider side: ~14 Inches (~35 cm) and 20 Inches (~50 cm)

The new COLD NEON technology makes possible to create the neon-look lamps using the flexible silicon tubes with LED lights inside.

Having same effect as a real glass neon sign, LED neon is completely safe.

Features:
Touchable - low voltage (12V adapter included) allows it to be used even with kids
Non-fragile - unlike glass neon, LED technology is durable
Power cord - 2 meters long and comes with your country plug.
Up to 50 000 Hours lifetime
Indoor use only
Remote control included
Watch our examples of Bar Neon Sign on youtube.
---