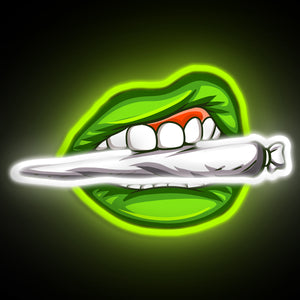 The Bite The Weed Neon Sign is a unique and eye-catching piece of artwork that will add a fun and playful touch to any space. Measuring approximately 13 inches (35cm) in size, this neon sign features a printed pop art mouth biting a weed, which creates a bold and vibrant statement.
The design of the neon sign is a playful take on pop art and is sure to capture the attention of anyone who sees it. The neon lighting adds an extra element of excitement and energy to the artwork, creating a striking visual display.
The sign is crafted with high-quality materials and is built to last, ensuring that it will be a long-lasting and durable addition to any space. Whether you're using it to decorate a bedroom, living room, or even a commercial space like a bar or restaurant, the Bite The Weed Neon Sign is sure to be a conversation starter and a focal point of the room.
Overall, the Bite The Weed Neon Sign is a fun and unique way to express your love for pop art and cannabis culture, and it's sure to bring a smile to your face every time you see it.
Clear Acrylic, LED neon tube
Width: 50cm (20") or 35 Cm ( 13 inches)

Advantages of our flex neon signs:

✓ Life up to 100,000 hours
✓ Low power consumption
✓ No mercury, safe for children
✓ Tidy appearance
✓ Shockproof
LED Color: Green, White

We make only hand made, high quality neon signs.

Power supply 110/220v, Your country plug: included

Include a remote (brightness and other function)
Some Cool neon sign about weed you may like:
---