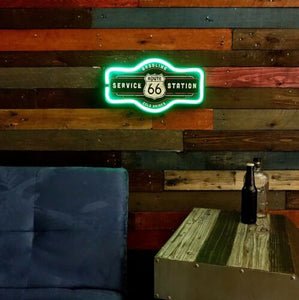 What do you instantly think about when you hear Route 66? The neon lights! With our Route 66 Neon Lighted Sign, you'll get the nostalgic feel of classic Route 66 in your own home. This high-quality sign is bright and colorful, and will instantly make you feel like a true West Coast-er!

Materials
Acrylic, LED, PVC

Dimensions
20 Inches  (~50 cm) 
For Bar, Garage, or Man Cave

Features:

Touchable is a neon sign with a difference - it's touchable! Touchable is an LED neon sign that doesn't crack or break and can be used with kids. Touchable is powered by low-voltage, so it's safe to use with kids and adults alike. With Touchable, you can create personalized messages for your home or business in an endless combination of colors. It's the perfect way to create ambiance, promote a business
Remote control included for this garage  Neon Sign made with LED
Watch our examples of mancave and daddy garage Neon Sign on youtube.
---
fast shipping
Better than expected, fast shipping. I hope he likes it