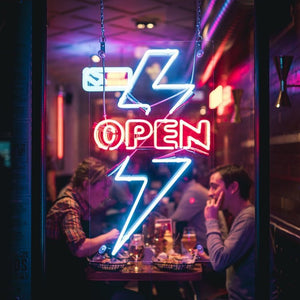 Lighting bolt OPEN LED neon sign for restaurant neon
OPEN, restaurant, sign
Owning a restaurant is not for the faint of heart. You have to be on-site at all hours and worry about staffing, customer service, food quality and more. But with our LED neon signs, you can bring your restaurant to life without having to spend hours on maintenance or cleaning! This is a great option for business owners looking to up their customer engagement. Our OPEN LED neon sign comes in different colors.
⚈ Ready to use
⚈ Low voltage (12V transformer included)
⚈ Power cord length: 1.50m (60 inches)
⚈ 4-mm thick clear acrylic backing with pre-drill screw holes
⚈ Easy installation for hanging 
⚈ Does not break easily
⚈ 50,000 hours lifespan
⚈ 1 year warranty
⚈ Remote included (turn it off and control the brightness)
 Size: 13.8 x 19.3 Inches ( 35x49cm )
OPEN is RED
Lightning Bold is Blue
The OPEN LED neon sign is a must-have for every restaurant, bar and patio! It's an eye-catching add-on to any establishment that's sure to catch the attention of potential customers. The sign is designed to attract customers with its eye-catching lightning bolt design.
---