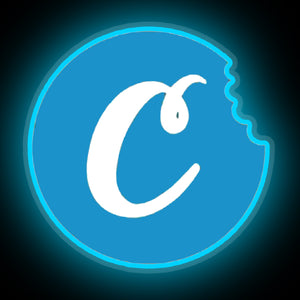 Request Neon Sign for Alec
 Printed on acrylic backing.
Light blue neon led light around the logo.
No noise and no heat, operates in a low voltage and it doesn't break!
No installation is required. 
Just hang it and plug it, or put it on your table.

It's low voltage transformer will work in any country (USA, Europe, Australia, Japan etc...)
Dimensions
Wider side: 16"
Free Shipping
⚈ Ready to use
⚈ Low voltage (12V transformer included)
⚈ Power cord length: 1.50m (60 inches)
⚈ 4-mm thick clear acrylic backing with pre-drill screw holes
⚈ Easy installation for hanging 
⚈ Does not break easily
⚈ 50,000 hours lifespan
⚈ 1 year warranty
⚈ Remote included (turn it off and control the brightness)
---